Burlesque Teasers – T
easers are held at Studio Of Possibilities – Nicholas Bldg and are booked via Laneway Learning.
The next Teaser Class  'Vintage Burlesque for Everyone with Madame M' at Laneway Learning on 22 October 6.15 pm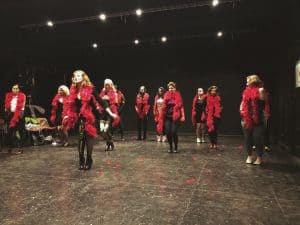 Awaken your sensual self and explore your sex kitten style, with original 1950's Burlesque!
You will be shown original classic Burlesque moves and get to play with a variety of props including: masks, boa's, gloves, garters and feathers.  You will learn the basics of Burlesque technique and a short choreographed dance.
What you will learn…
Bumps n Grinds
Shimmies
Burlesque Strut
Undulations
Isolations
Pin Up Poses
Feather Boa Technique
Glove Peel
Short dance routine
Your teacher Madame M (aka Maree) has been teaching Burlesque since 2007 and has taught hundreds of women how to tap into their feminine energy and sacred sensuality. She is also a professional Actor, Embodiment and Tantric Embodiment Coach
Click link for more details http://melbourne.lanewaylearning.com/
___________________________________________________________________________
What's it all about?
Madame M's Vintage Burlesque is an introduction for those who have never tried burlesque and have always been curious. Even if you are a dance virgin and the most uncoordinated person on this planet, you will find the moves fun and easy to pick up! It is great opportunity for women of all ages to feel fabulous and feminine.
What will we cover?
In the class you will be shown original 50's burlesque moves: the bump 'n' grind, shimmies, feather boa techniques, undulations, glove and stocking peels, teases, reveals and a whole lot more.
You will learn an easy 1950's vintage burlesque dance routine, where you will use feather boas, satin gloves, garters and stockings, incorporating a sexy chair dance.
Burlesque is also a great fitness workout. You will achieve better balance and posture, strengthen the back and the muscles of the pelvic floor, tone thighs, glutes, hips, abs, work out the core muscles and improve your flexibility. After the class you will feel empowered, confident and be ready to conquer the world!
Who will be teaching?
Maree specialises in teaching sensual burlesque dance styles in Melbourne as well as being a professional coach in performance. Over the last 7 years she has taught hundreds of women about sensuality, confidence, and empowerment. For many years she has researched and studied sacred sexuality, and is highly adept at teaching women of all ages how to tap into their feminine energy.
If you would like more info about Madame M's Burlesque you can visit her facebook page or her website: www.dance4fitness.com.au
Questions about the class? Please email melbourne@lanewaylearning.com.
Sound like fun?
________________________________________________________________
Private Sessions – Beginners to Advanced

Cost:
$80.00  full price – 1 hour
$68.00 for ongoing private sessions and concession (student, health care card, pensioner) – 1 hour
Classes are available for beginners to advanced, and tailored for each individual student depending on their needs, experience and preferred style.
Typical elements covered:
Vintage and Neo Vintage Burlesque techniques, stage presence and performance, costumes, props etc, creating a character,
Neo Burlesque, Vintage Burlesque or Cabaret Burlesque styles
Classic burlesque techniques
Creating a burlesque character
Animal work
Owning your sexuality
Stage presence
Archetypes
Acting technique
Vocalisation
Choreography
Costuming
Hair and makeup styling
How to work the audience
Branding – Marketing yourself
Technical elements incuding  lighting, blocking and stage production
Creating your own act
Devising a show